The actors have the Oscars and the fashion elite have the Met Gala, but for the rest of us, prom is the best excuse to get dolled up for a night of full-on, red carpet-worthy glamour.
So, with that in mind, finding the perfect prom dress is vital… and we appreciate that it can be a bit of a daunting task. There are countless prom dresses to choose from….from short prom dresses, to cocktail dresses in various colours, styles and materials. But worry not, we've decided to step in and offer some advice.
We've comprised a list of five of our ultimate favourite prom dresses from our go-to formalwear website promgirlnet. From the full on mandatory princess number to something a little more understated to all else in-between, we've got it covered!
If you can't dress like a fairy-tale princess on your prom night, when can you eh? Additionally, if you can't quite decide what colour to go for, there's no need to make a choice with this dress! If you believe the best way to make a statement is by adding a splash of colour and a full skirt, this Clarisse number is the one for you!
Whether you're inspired by Angelina Jolie, Rihanna or more recently, Kate Middleton, thigh high splits are the best way to be sexy and chic. This Jovani dress is perfect for achieving that wow-factor look… you'll be one of the sparkliest gems at prom in this baby!
This is the dress for the indecisive among us… the mullet dress is never far from a fab red carpet event, so why should prom be any different? This is the Goldilocks/baby bear of the prom dress world… neither short nor long – it's somewhere right in the middle, and juuuust right!
This short Clarisse dress is cute, fun, age-appropriate, sexy, flirty… the list goes on. Great for adding colour without going overboard and is a fab choice to help you stand out from the crowd for all the right reasons. You don't need us to tell you that blue/turquoise is super-hot right now, but in case you need some reminders, take a look at this.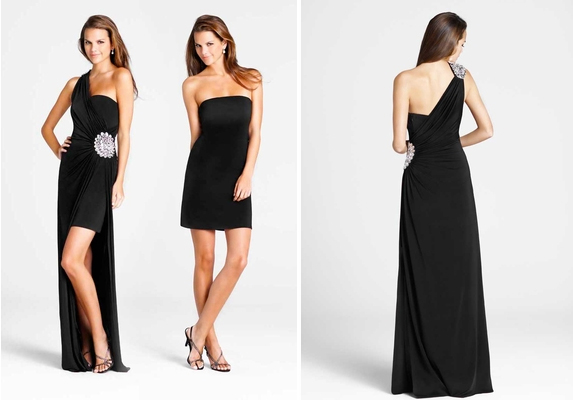 You don't need to be OTT to make a statement, and this no-frills, simple, chic dress more than proves it! Plus, you can never really go wrong with black, right? An understated version of the mullet dress we saw above, with the added bonus of the choice to remove the longer part of the dress altogether. Basically, you're getting two dresses for the price of one… can we get a hallelujah?